Darci Jens Fulcher
---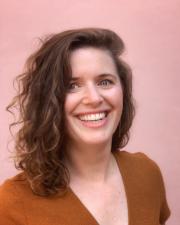 Assistant Professor
Acting, Movement, Devised Performance
She/her
Biography
—
Darci Jens Fulcher is an actor, deviser, movement coach, and director. She is a company member with Goat in the Road Productions (GRP), a New Orleans-based performance ensemble dedicated to the production of original and invigorating new works of theatre, dance, performance art, and educational programming. American Theatre magazine has featured her work for productions such as Roleplay, The Uninvited, and Foreign to Myself.  
Roleplay was the culmination of a year of devising an original play with fifteen Tulane University students in response to the 2018 Tulane University Climate Survey on Sexual Misconduct. Fulcher, a specialist in movement and devising, began considering how actor training at Tulane could help students understand the body language of consent. The devising and rehearsal process was followed by a documentary crew that will release Roleplay the documentary in fall 2021. 
The Uninvited was a year-long collaboration with the Gallier House, a historical museum in the French Quarter. As an actor/deviser, Fulcher helped devise a site-specific play that examines the re-segregation of public schools during the reconstruction era in New Orleans. Other recent projects include Maison, an immersive project produced by BODYART. Maison was an Avante-Garde performance art piece paired with dance-inspired dishes, live music, and wine in April 2019.
Fulcher has spent the last six years as a professor at Tulane University, Dillard University, and Delgado Community College, introducing students to clown, mask, devising, movement & physical theatre. Outside of New Orleans, her original work has been accepted by the Madlab Series as part of the Mad River Festival in Blue Lake California, the Fury Factory Festival in San Francisco, and the Fertile Ground Festival in Portland, Oregon. Before earning her M.F.A. in Ensemble-Based Physical Theatre from Dell'Arte International School of Physical Theatre (2014), Darci spent 2007-2011 working for Epic Theatre Ensemble. Epic is a professional social justice theatre company in New York City, where she taught, performed, and produced theatre off-Broadway. She graduated with a B.A. in Theatre and B.S. in Business Management from Fairfield University (2007).
Education
—
MFA in Ensemble-Based Physical Theatre, Dell'Arte International School of Physical Theatre
Creative Works
—
Theatre:
Goat in the Road Productions credits:
The Uninvited
Roleplay
Foreign to Myself
Distance of Sound
Haydn Seek
Uncle Vanya: Quarter Life Crisis
BODYART credit: Maison
Radical Buffoon(s) credit: Balloonacy
Film:
Hot Dreams by Fulcheve Brothers
The Howling by Fulcheve Brothers
"Mortal Passions" music video by Fulcheve Brothers