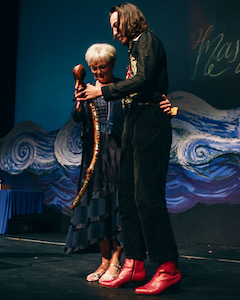 The Kilty Kane Award is the highest award that can be given in recognition of outstanding contributions made by a student leaving the program. The Kilty Kane recognizes accomplishments within the University Theatre program.
Jerome Kilty, an accomplished actor, writer and director in the American theatre, was the first guest artist to play a leading role in the newly built Murphy Hall in 1957. He played Falstaff in a production of Henry IV, Part 1, and this "kane" was brought from Scotland to be his personal prop for the production. When Mr. Kilty left, he asked that it be used to honor outstanding contributors to the production program.
The Kilty Kane bears the name of each recipient of the award and is used as a prop to open and close each academic season. A first-year student is selected out of the crowd at the annual Rally to tap the "kane" three times on the stage to open the season. At the end of the year, at the annual banquet, the recipient of the Kilty Kane closes the season in the same manner. This tradition, along with the recognition of excellent service to the program, has defined this award for all faculty, staff, students, and alumni as the most prestigious honor to bestow upon a graduate.
The Kilty Kane Award is presented by nomination and vote of the faculty & staff.
Past Recipients
| Year | Recipient |
| --- | --- |
| 2022 | Christopher Pendry, Katherine L. Pryor |
| 2021 | Gabrielle Smith |
| 2020 | Elsa Bernauer |
| 2019 | Katie Sgroi |
| 2018 | Robert Crone |
| 2017 | Leah Mazur |
| 2016 | Kevin Siess |
| 2015 | Thomas Tong |
| 2014 | Julia Ubert |
| 2013 | Hilary Surface |
| 2012 | Boone J. Hopkins |
| 2011 | Ben Sullivan |
| 2010 | Amy Virginia Buchanan, Spencer Lott |
| 2009 | Ann Sitzman |
| 2008 | Brady Blevins |
| 2007 | Stephen Ferrell, Justin Knudsen |
| 2006 | Eric Avery |
| 2005 | Christopher Wheatley |
| 2004 | Beth Collins |
| 2003 | Brian Clinnin |
| 2002 | Tom Picasso |
| 2001 | Alison Preston |
| 2000 | Jennifer Jacob |
| 1999 | Tony Fuemmeler, Silas Hoover |
| 1998 | Stephen Hudson-Mairet |
| 1997 | Laura Zabel |
| 1996 | Erin Kessler, Alex Kipp |
| 1995 | Amy Steinhaus, Ron Wilson |
| 1994 | Staci Banks, Sandy Saltzstein |
| 1993 | Michael Reese |
| 1992 | Rita Beier, Bob Donlan |
| 1991 | Marsha Paludan |
| 1990 | Brenda Yungeberg |
| 1989 | Dennis Christilles |
| 1988 | Kevin Crawford |
| 1987 | David Montee |
| 1986 | Tracy Iwersen, Beth Reiff |
| 1985 | David McGreevy |
| 1984 | Keith Harris, James Larson |
| 1983 | Jose "Pepe" Echegaray, Venetia Reece |
| 1982 | Aurora Mendoza Perry |
| 1981 | Jem Graves, Marcia Grund |
| 1980 | Rhonda Blair, Ron Shull |
| 1979 | Jeannie Wilkerson, Charles Lown |
| 1978 | Jim Peterson |
| 1977 | David Cook, Cliff Rakerd |
| 1976 | Mary Jane Sisk, Preston Sisk, Jed Davis |
| 1975 | Eric Anderson |
| 1974 | Chris Johnson, Diane Kling |
| 1973 | Peter Clough, William Evans |
| 1972 | Earl Trussell |
| 1971 | Rhonda Plymate |
| 1970 | Steve and Kay Reed |
| 1969 | Jack Wright |
| 1968 | Dennis Dalen |
| 1967 | Paul Hough, Lewin Goff |
| 1966 | Sharon Scoville |
| 1965 | Jim Hawes |
| 1964 | Sidney Berger |
| 1963 | Ken Baker |
| 1962 | John Welz |
| 1961 | Joyce Malicky |
| 1960 | Louis Lyda |
| 1959 | Marvin Carlson |
| 1958 | Bill Kuhlke |