Laura Louise Pryor Memorial Award
---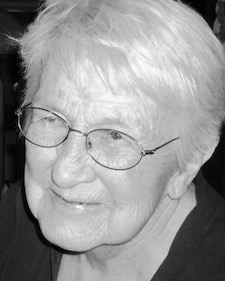 The Pryor Family created the Laura Louise Pryor Memorial Award to honor their mother, Laura Louise. Laura Louise was a long-time theatre patron of the University Theatre and a member of its Friends of the Theatre (FROTH) organization. Laura Louise attended most theatre productions from 1978 – 2009 with her daughter, emeritus staff member Katherine Pryor. She died at the age of 91.
The Laura Louise Pryor Memorial Award provides an award for a student graduating with a degree in Theatre or Theatre/ Voice who has made significant contributions to the University Theatre production program. Candidates must show evidence of being generous and having a strong work ethic. Preference will be given to a student who has a love for music and who has demonstrated a love for animals.
Eligible students must complete the Award Application  by April 1 for  consideration. The award is presented by vote of the faculty & staff of the department.
Past Recipients
| Year | Recipient |
| --- | --- |
| 2023 | Lindsay Webster |
| 2022 | John Dylon Rohr |
| 2021 | Kalen Stockton |
| 2020 | Hollyanna Mathews |
| 2019 | Kaia Minter |
| 2018 | Drew Hafling |
| 2017 | Jordan Michael Grant |
| 2016 | Pamela Rodríguez-Montero |
| 2015 | Megan Lethbridge |
| 2014 | Hailey Lapin |
| 2013 | Margaret Hanzlick |
| 2012 | Laura Brooke Williams |