Nicole Hodges Persley
---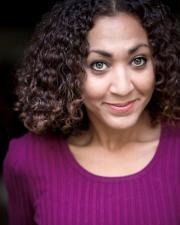 Vice Provost for Diversity, Equity, Inclusion & Belonging
Professor of American Studies and African & African American Studies
Courtesy Professor of Theatre & Dance
She/her
Biography
—
Dr. Hodges Persley is an honored faculty member who also has a courtesy appointment with the Department of Theatre & Dance where she served as Chair and helped merge the units during her tenure. She has served as associate dean for Diversity, Equity & Inclusion in the College of Liberal Arts & Sciences. Her research, teaching, service and creative endeavors have developed her unique background and skillset for the task ahead.
She first joined the KU faculty in 2009 and in the years since has received several awards and honors in recognition of her teaching, mentoring and campus contributions. In 2017 she received the Center for Sexuality and Gender Diversity's Pride Award. In 2016 she received both the Office of Diversity and Equity's Diversity Leadership Award and the Center for Educational Opportunity Program's McNair Scholars Mentoring Award. In 2015 she received the university's Byron T. Shutz Teaching Award. Prior to arriving at KU she was honored with the Mellon Foundation's Undergraduate Teaching and Mentoring Award.
Her scholarly work focuses on race and performance and includes several articles and book chapters on Hip-hop, and African American theater, acting and directing. She is the author of Sampling and Remixing Blackness in Hip-hop Theater and Performance, and Breaking it Down: Audition Techniques for Actors of the Global Majority, co-authored with Monica White Ndounou. She is a graduate of Spelman College and she earned a master's in African American studies at the University of California - Los Angeles and a doctorate in American studies and ethnicity from the University of Southern California.
She has acted and directed in theater, television and film, and is a member of SAG/AFTRA, SDC (Stage Directors and Choreographers Society). She is a Board of Trustees member of the NTC (National Theatre Conference) and an Executive Committee member of the American Society for Theatre Research. Prof. Hodges Persley has been the Artistic Director of KC Melting Pot Theatre, Kansas City's premier African American theater company, since 2016.
Education
—
Ph.D. in American Studies and Ethnicity, University of Southern California