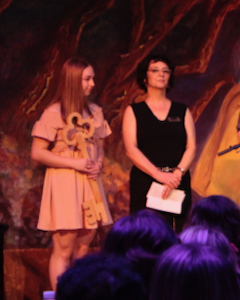 The Key Collaborator Award is presented each year to a student leaving the program in recognition of outstanding contributions to the University Dance Company.
The Key bears the name of each recipient of the award and is used as a prop to open and close each Theatre & Dance season. A first-year student in dance is selected out of the crowd at the annual Rally to tap the Key three times on the stage to open the season. At the end of the year, at the annual banquet, the recipient of the Key helps close the season in the same manner. 
The Key Collaborator Award is presented by nomination and vote of the faculty & staff.
Past Recipients
| Year | Recipient |
| --- | --- |
| 2023 | Anna Hastings |