KU Theatre Design Student Earns Spot at National Kennedy Center Festival
---
The Department of Theatre & Dance at the University of Kansas announces the following students earned awards and recognition from the Kennedy Center American College Theatre Festival, Region V. Almost all of this outstanding work was part of actualized productions of KU's University Theatre.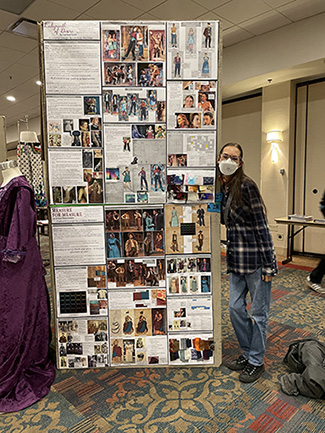 National Award
Lindsay Webster, a third-year MFA in scenography student from Novi, Mich., won a First Place National Award for costume design for The Labyrinth of Desire, work which qualified her for national competition this spring in Washington, D.C. Additionally, she earned Second Place National Award for scenic design, also for The Labyrinth of Desire. This is the second year in a row Webster has represented the University in costume design on a national level. 
 
Other Honors
Taiane Lacerda, a second-year MFA student from Florianópolis, Brazil, earned the Don Childs DTM Cross-Discipline Collaboration Award for Into the Woods and A Midsummer Night's Dream, both of which were part of her summer internship taken for course credit. Hazel Youngquist, a senior theatre performance major from Perry, won the Jane Childs DTM Legacy Award for First-Time Presenters for his work on the University Theatre's production of Everybody.
 
Regional Commendations
Also, some of the Department's students and faculty received commendations, and all of those were tied to KU's production of Everybody. Youngquist for lighting design, Lacerda for scenic design, Assistant Professor of Technology and Design Rana Esfandiary for costume design, PhD Candidate Timmia Hearn DeRoy of Lawrence for direction, and the entire Everybody cast for ensemble performance. 
 
"The students' growth was evident within the first days of attending the conference. They had the chance to receive feedback about their work, attend workshops, and network. This opportunity helped them find focus for their future," said Kelly Vogel, Academic Associate/Resident Artist in the Department. "As their professor, this is one of my favorite experiences with the students."
 
The KCACTF-Region V annual conference and awards took place January 2023 in Des Moines, Iowa. Region V includes Kansas, Iowa, Minnesota, Missouri, Nebraska, North Dakota, and South Dakota. At various times during 2022, representatives of KCACTF came to Lawrence to judge the submitted plays and provide responses.