Kuhlke Humanitarian Award
---
The Kuhlke Humanitarian Award was created in 1994 to honor Emeritus Professor William Kuhlke and is given to a student leaving the program in recognition of humanitarian service provided to the Department.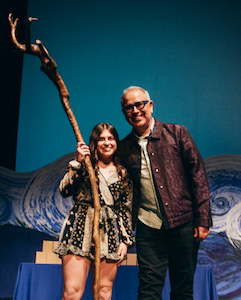 Emeritus Professor William Kuhlke is a firm believer in the arts as one of the humanities and its primary purpose to be used as a tool to teach us about ourselves and our neighbors. While on the faculty, Bill insisted that this was not merely the playwright's job, but the job of everyone involved in the arts community. He believed, he taught, and he exemplified this in his everyday life, and our faculty and staff recognize those same qualities in the recipient.
Bill used the "Kuhlke Krutch" as Prospero's staff in The Tempest in 1992, and gave the staff to the department after his final performance. When he first envisioned the character's staff, he saw something shiny and man-made, but when Jim Peterson presented him with a large piece of driftwood that he found at Clinton Lake, Kuhlke fell in love with it. The staff was weathered and twisted, ugly and old, and yet somehow beautiful. Kuhlke felt the natural beauty in the staff symbolized both the character's faith in reason as the natural path to spiritual purity and his belief in the capacity of knowledge used with reason to make the world a better place.
The Kuhlke Humanitarian Award is presented by nomination and vote of the faculty & staff of the department.
Past Recipients
| Year | Recipient |
| --- | --- |
| 2022 | Maya Gold |
| 2021 | Tehreem Chaudhry |
| 2020 | Lusie Cuskey |
| 2019 | Brandon Hedger |
| 2018 | Rana Esfandiary |
| 2017 | Jordan Michael Grant |
| 2016 | Gabriel Alaniz |
| 2015 | Maggie Boyles |
| 2014 | Hailey Lapin |
| 2013 | Jenny Curatola |
| 2012 | Chandra Owenby Hopkins |
| 2011 | Jacquelyn Koester |
| 2010 | Elizabeth Elliott, Caleb Stroman |
| 2009 | Beth Zupek |
| 2008 | Adam Burnett |
| 2007 | Kate Giessel |
| 2006 | Blake Bolan |
| 2005 | Evan Grosshans |
| 2004 | Aaron Dyszelski |
| 2003 | Hannah Ballou |
| 2002 | Becky Lake |
| 2001 | Gina Grad |
| 2000 | Kate Turnbull |
| 1999 | Kim Miller, Jennette E. Selig |
| 1998 | Rick Jones |
| 1997 | Sally Shedd |
| 1996 | Nick Miller-Schlyer, James Wallert |
| 1995 | Stacey MacFarlane |