Jim Dick
---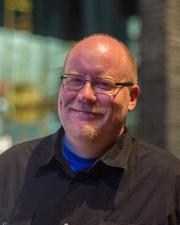 Biography
—
Jim is Managing Director of Theatre & Dance. Among his many responsibilities are supervision of the production office, box office, and front-of-house for all University Theatre and University Dance Company productions. He has also directed the University Theatre productions of Reckless (2015) and Perfect Arrangement (2018).
He earned his B.F.A. in theatre education from Drake University. There he directed Prelude to a Kiss and appeared in productions of The Two Gentlemen of Verona, Cole, No Trifling with Love, Uncommon Women and Others, Reckless, All My Sons, and Measure for Measure. He also served as artistic director of Drake's Playwrights' Acting Company for two seasons
Jim was a resident director with Central Iowa Repertory Theatre where he directed productions of The Split Infinity and Twyla's Boy. His other credits include work as an assistant director and technical director with such companies as StageWest, the Des Moines Playhouse, Tallgrass Theatre, and the Iowa Shakespeare Project.
Education
—
BFA in Theatre Education, Drake University