Shannon Stewart
---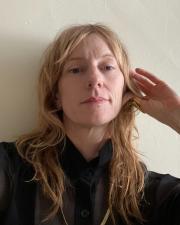 Assistant Professor
Modern/Contemporary, Gyrokinesis
She/they
Contact Info
Robinson Center, Room 251-B

---
Biography
—
Shannon joins the KU Faculty as an active interdisciplinary artist with a dance centered practice. She teaches several modalities of physical practice in contemporary released-based techniques that engender athletic, efficient movement, with the aim to be inclusive and empowering Her research brings concert dance forms, history, and theory into conversation with embodied geography, history, and personal and community narratives with the goal of expanding access and engagement with deeply researched, experimental, and community centered dance performance. A 2023 USA Fellowship nominee, Shannon Stewart makes distinctive physically and conceptually rigorous dance work, described as "mesmerizing and brutally poetic." Her company, screaming traps, has been nominated and awarded a New Orleans Big Easy award for outstanding choreography and outstanding dance presentation.
Shannon's choreography has been presented by DOCK 11 (Berlin, Germany), CONARTE (Monterrey, Mexico), Improspekcije (Zagreb, Croatia) Movement Research at the Judson Church, Future Oceans Festival (NYC), Velocity Dance Center, On the Boards (Seattle), RISK/REWARD, Performance Works Northwest (Portland), Philadelphia Dance Projects, the Hinterlands/Playhouse, Wasserman Project (Detroit), Definitive Figures Festival, Marigny Opera House, Tulane University (New Orleans), Bryant Lake Bowl, Cowles Center (MPLS), the Work Room (ATL), Pivot Arts Incubator (Chicago), Good Children Gallery, the Front Gallery, invited to the V&A Late in London, and John F. Kennedy Center (Washington, D.C.). Her collaborative dance films have screened at festivals around the world. The development of Shannon's work has been supported by the National Dance Project, National Performance Network, Foundation for Contemporary Art, UCROSS Foundation, Art Omi, and the Maggie Allesee National Center for Choreography, among others.
Shannon holds several levels of certification in the Gyrokinesis and Gyrotonic Methods® and has extensively studied release-based techniques including Countertechnique®. She is a teaching artist with the Dance For People with Parkinson's Program (D for PD®). She has been a core faculty member of ROAR Berlin since 2017.
As a dancer, Shannon has worked with Deborah Hay, Tino Sehgal, tEEth performance, Dayna Hanson, Pat Graney, zoe|juniper and many others.
Shannon is a member of the Dance Studies Association and the Association of Writers & Writing Programs (AWP).
Education
—
MFA in Interdisciplinary Dance Performance, Tulane University
B.A. in Community and Environmental Planning, University of Washington
B.A. in Business Administration, University of Washington
Research
—
I approach physical research and performance making as an imaginative and substantive field from which to experiment with notions of self, identity, body, and community. I use the creative process to understand what has been constructed, erased, and reconstituted--revealing subtext, embodied archives, and demanding for a more active engagement with systemic choreographies inside and beyond the studio.
I consider the following questions: How does identity perform itself at the perceptual level and how is it different when considering a live performance, cinematic image, or prose? How do these things implicate "other" and design the ways we relate to ourselves, each other, and natural and built environments? What tools for transformation are already available in dance and performance or yet to be made that disrupt hegemonic patterns and make new ones? And finally, how can we make our creative work inclusive, grounded in equity and justice, adaptive to locations and communities, and invite meaningful participation? I use writing, video, and awareness to sites and context as opportunities to continually reframe thematic explorations and find new ways through complex terrain. By translating material across mediums, I engage with different kinds of attention and possibilities for vulnerability and proximity. As I make my way through creating any work, I build in accountability structures for addressing sensitive material and share the process through teaching, specifically through a process I refer to as body-based-theory-practice.
Body-Based Theory Practice is a compilation of exercises for embodied cognition across discipline and contexts. It is an Open-source field inviting proposals and experiments that deepen, transmit, and transgress ways of creating knowledge. With BBTP, my job is to make each student feel empowered to question and experiment with technique, performance, and identity while developing their artistry. It is critical that this work happen with astute awareness and inclusion of how privilege, oppression, ego, art markets, ecological crises and their layered corporeal experiences inform their perspectives and the structures they participate in.
Selected Publications
—
"Body-based theory practice: the potent intersection of queer theory and dance practice." Dance Studies Association Conference, Ohio State University (2017)